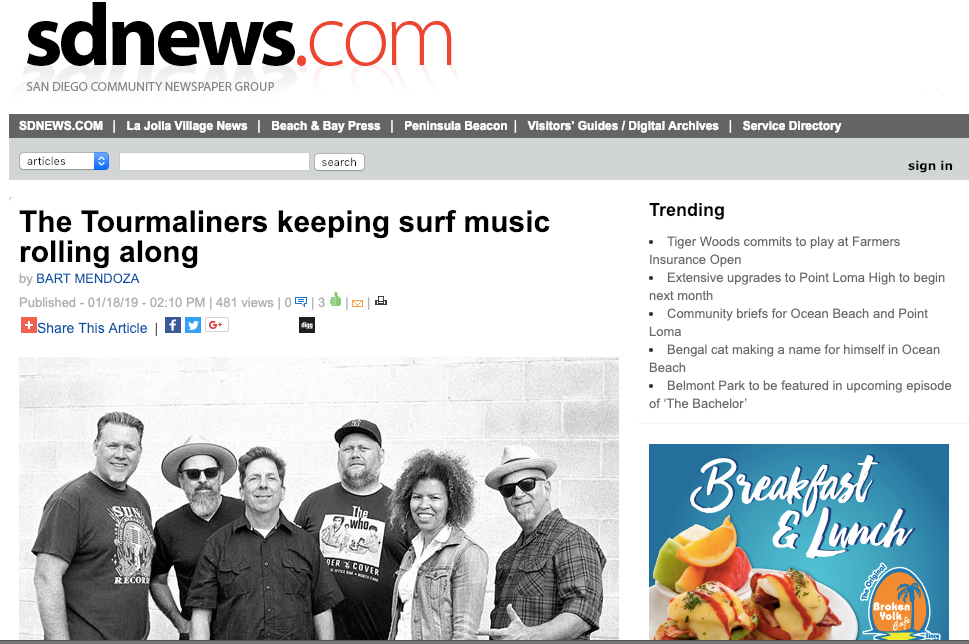 Read Article On SDNews.com
It's true that much great music has emerged from Southern California over the decades. However, if you were to pick a specific signature sound that the area is known for, it would most likely be surf music. 
The instrumental, twang and reverb guitar laden brand of rock 'n' roll was first popularized in the early 1960s by a wave of classic bands such as The Ventures. While surf music rarely shows up on the charts these days, it's still popular live, with a thriving scene throughout the Southland. One of the newest groups, The Tourmaliners, performs at Tio Leo's on Jan. 29. 
Though barely six months old, the band has quickly started to build a following. The group also comes with serious surf music pedigree. Frontman and guitarist Deven Berryhill is son of legendary guitarist Bob Berryhill, best known for his work with The Surfari's and such hits as the immortal, "Wipe Out." 
Berryhill grew up in Seal Beach, though he visited the area often for family holidays to visit his Aunt and Uncle who lived in Bay Ho. 
"The first time I moved to San Diego was in 1988," he said. "My girlfriend and I moved down to go to Point Loma Nazarene University." 
Early on he took inspiration to play the guitar from "My dad, Dick Dale, Stevie Ray Vaughn and The Edge from U2," he said. Meanwhile, his life as a surf musician was assured at an early age. "I was born and raised in the surf genre," he remarked. "My dad co-wrote the hit song 'Wipe Out.' So, growing up in constant exposure to that style, I fell in love with the energetic and melodic sound that surf music creates." 
His love of playing live also hit early. "The principal at my school let my surf band, The Last Wave, play at our eighth grade graduation, complete with polyester tuxedos" he explained of his first gig. "We played a medley of 'Point Panic' and 'Pipeline.' We were a huge hit." 
His current surf combo, The Tourmaliners, came together quickly. "I have a lot of friends who love surf music," Berryhill said. "We had an opportunity to play at a local club so I called some buddies and put together a band. We thought we'd invite some friends who like surf music to come and have a good time." 
The all star group of friends comprising The Tourmaliners consists of Matt Clowminzer, formerly of funk combo Hot Chicken Stew, guitarist Joe Dameron, keyboardist Ina Soliz, bassist Rob Glickman, a former member of acclaimed 1980s band, NE1, and drummer Jake Najor recently heard with The Redwoods Collective. 
He notes they do branch out a little in their set lists. "Instrumentals are the backbone of our set but we incorporate a number of vocals too," he said. Since guitar is the focus of surf music, Berryhill has a number of instruments at his disposal, but currently favors a Seafoam Green Fender Stratocaster. 
"It gives me every grindy reverbed tone I need to really interpret the surf sound," he said. 
Onstage the band mixes it up between classics such as "Misirlou," "La Bamba," and "Sleep Walk," and originals penned by Berryhill. "I have a catalog of original surf songs that we are working into the set," he explained. "We are done recording an album that we plan on releasing this summer, it will be titled "Adios Saladita!" 
More than six decades have passed since surf music was first heard across AM radios. Does Berryhill think surf music will continue to resonate with modern audiences? "Of course," he said good naturedly. "It's upbeat, fun music. Every generation can relate." 
The Tourmaliners: Tuesday, Jan. 29 at Tio Leo's, 5302 Napa St. 7 p.m. 21 and up. tioleos.com. 
Read more: San Diego Community News Group - The Tourmaliners keeping surf music rolling along