"...this (Tourmaline Dream) has to be a top contender for Pipeline's album of the year. Simply superb"  
-Dave Burke, Editor Pipeline Magazine (UK)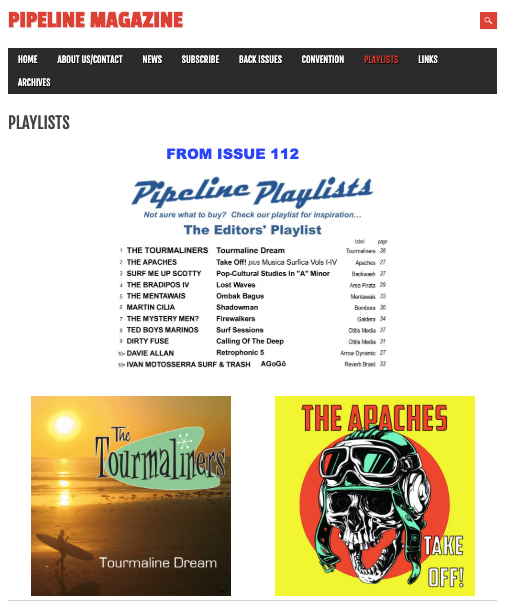 THE TOURMALINERS             TOURMALINE DREAM                                                      CD 
The Tourmaliners no #; USA 2019; 45min 
Baja Norte! / Pumphouse / Green Pipe / Tourmaline Dream / Espania / Glasshouse / Adios Saladita / 
Leilani's / Stellular / Point Break / Fist Full Of Surf / LG / Amazing Grace (v) 
If you're looking for a top notch surf band then look no further. The Touramaliners are Deven Berryhill's San Diego based group, Deven of course being the son of Bob Berryhill and also a member of his dad's band The Surfaris. Deven plays guitar and has written all the songs on this album and he is ably supported by some seasoned and highly skilful musicians, namely: Joe Dameron (guitar), Matt Clowminzer (guitar), Rob Glickman (bass) and Jake Najor (drums). But what is truly exceptional about this CD is the quality of the material. It is not unusual for us to be astounded by the playing ability of many modern surf bands and the way in which they convincingly re-create the surf sound, but then to be disappointed by their inability to write a half decent tune. There's no such problem here because just about every track is richly melodic and all are presented within especially well-crafted arrangements. 
The CD opens with Baja Norte! which has a sinister-sounding surf riff at its heart, a sort of surfing Peter Gunn, topped with a tuff melody played on the low strings and skilfully embellished by additional harmony guitar lines. In fact that is a characteristic of many of the tracks: second or third guitar lines being added or woven into the melody to create extra interest. Pumphouse is similarly overflowing with ideas with one memorable sequence following on from another, guitars galore and they all having something special to say. Even Green Pipe, which starts out with a lazy reggae beat but ends up somewhere else altogether by virtue of its wonderful chorus which suddenly flows in and washes warmly over you. 
Tourmaline Dream is simply magnificent. It has an almost tropical feel with a solid snare beat set against a busy acoustic rhythm guitar, when in drifts a melody on electric guitar that is so full of yearning and tenderness that you are instantly captivated. And just when you think it cannot possible get any better guest acoustic guitarist Cesar Gervasi suddenly joins in, initially playing in harmony with the electric but then breaking away to solo in an almost jazzy way before again returning to harmonise with the electric. Fabulous! 
But really just about every track is great. There's the zippy Espania with its bright and breezy attack of guitars, the brooding Adios Saladita with its grand opening chords and moody lead, Leilani's chirpy sounding ukulele rhythm topped with an Eddy style twang, Point Break with its hectic drum intro, bustling guitars and Surf Beat style middle-eight, the dramatic Fist Full Of Surf with its majestic lead and shades of a spaghetti western theme – all just super! In fact it's easier just to mention the single disappointment on the whole CD, Amazing Grace. This is basically a casual blues featuring just harmonica and acoustic guitar with a longish spoken introduction and a rough vocal praising Jesus and the Lord. It's a rather incongruous inclusion, but just remember that the other twelve tracks are absolutely super and this has to be a top contender for Pipeline's album of the year. Simply superb.    Dave Burke 
(3584 Crown Pt Dr, San Diego, CA 92109, USA 
facebook.com/thetourmaliners)